Transport
Find out how we can support you in these markets.

Automated control and inspection of automotive parts and equipment
KEP Technologies, through its brand SETSMART, offers a complete set of automated solutions for the industry:
• for the dimensional control of parts to be assembled: their internal or external diameter, their thickness, and their geometric characteristics (flatness, coaxiality, perpendicularity, parallelism, etc…).
• for the inspection of assembled systems, either on the surface using vision technologies or indepth using X-ray imaging.
We offer standard or customized solutions based on the specifications established by our customers.
Design and production of mechanical parts and assemblies
KEP Technologies, through its brand KEP METAL SOLUTIONS, offers the largest prime contractors in the sector its know-how for the design and manufacture of technical parts and assemblies, integrating a wide range of metalworking technologies.
These are particularly critical parts and assemblies with extremely tight manufacturing tolerances: prototypes for components to equip racing cars, elements for batteries and fuel cells for the new markets of electric propulsion on different types of vehicles.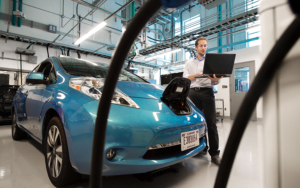 Characterization of materials for automotive equipment (plastics, rubber, alloys, catalytic converter…)
SETARAM brand analyzers are used for the characterization and control of the properties of all types of materials (plastics, rubber, composites, metals and alloys…). They accurately measure thermal or oxidation stability, transition temperatures and thermal capacity. These instruments are also regularly used for the characterization of catalysts (sorption, desorption, selectivity, and coke content.
Would you like more information?
You have a particular problem? Please get in touch with us.